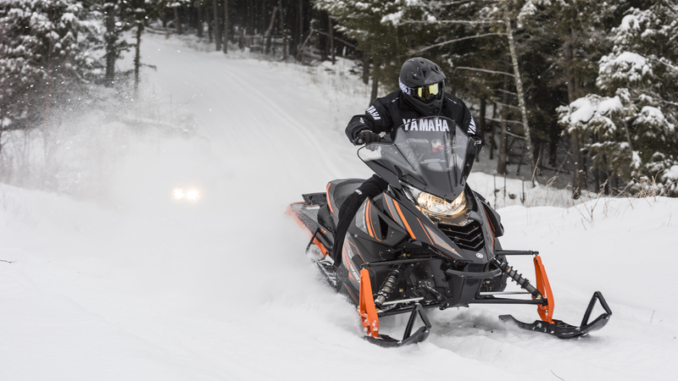 Downloadable Yamaha snowmobile repair manuals are electronically delivered books of instructions detailing the process of fixing or overhauling a motor vehicle with steerable skis at the front and revolving tractor treads at the rear.
A Yamaha snowmobile repair manual, also termed online factory skimobile service manual or snow-machine workshop manual, are booklets that can be downloaded to a computer, tablet or smart phone in seconds via Internet. These digitally delivered ebooks are identical to traditional paperback repair guides you'd obtain in stores.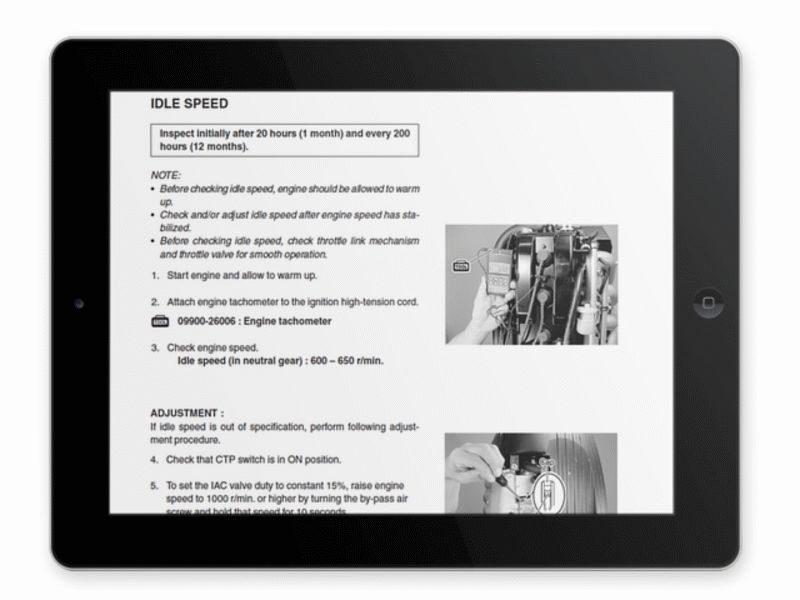 Yamaha snowmobile repair manuals cover every aspect of maintenance and repair. The books were originally written and  published by the manufacture so that dealerships technicians and certified shop repairmen were able to fix their own products. Every Yamaha repair book is written based on a hands-on complete teardown of the specific snowmobile model and year.
Yamaha snowmobile repair manuals are intended to help you learn and fix your skimobile while saving money in its upkeep and operation. They contain easy-to-understand, step-by-step repair procedures for the entire vehicle. Here is a small sample of topics typically found in a Yamaha snowmobile repair manual (actual topics may vary depending on year and mode):
General Information
External View
Machine Identification
Terms
Stage
Pre-Season Preparation
Maintenance

Periodic Maintenance
High Altitude Tuning
Tune-Up

Special Tools
Precautions Before Service
Fuel System
Carburetor

Removal
Disassembly
Inspection
Assembly
Installation

Tuning And Adjustment

Carburetor Tuning Data
Starter Cable Adjustment
Throttle Cable Adjustment
Oil Pump Cable Adjustment
Low Speed Tuning
Mid-Range And High Speed Tuning
Troubleshooting

Fuel Injection System

Fuel Injection Repair
Fuel Injection Troubleshooting
Fuel Injection Specifications

Intake
Chassis
Steering
Skis
Oil Tank
Fuel Tank
Electrical
Ignition System

Troubleshooting
Ignition Timing
Spark Gap Test
Ignition Coil
Spark Plug
Pickup And C.D.I. Charging Coil Test
C.D.I. Unit

Lighting System

Headlight Beam Adjustment
Lighting Coil Test
Voltage Regulator

Charging System

Charging Circuit Test
Checking Silicon Rectifier

Electric Starting System

Stater Motor
Stater Relay Switch
Battery
Engine
Engine Removal
Disassembly And Inspection

Recoil Starter
Flywheel Magneto
Primary Sheave
Oil Pump
Top End
Bottom End

Assembly And Adjustment

Bottom End
Top End
Oil Pump Gear Case
Primary Sheave
Flywheel Magneto
Recoil Starter

Engine Installation
Troubleshooting
Power Train
Sheave Alignment
Clutch Tuning

Clutch Setting Data
Charging Clutch Engagement And Shift RPM

V-Belt
Primary Sheave

Removal
Disassembly
Inspection
Assembly

Secondary Sheave

Removal
Inspection
Assembly

Chain Case

Disassembly
Inspection
Gearing
Assembly

Brake

Disassembly
Inspection
Assembly
Brake Adjustment

Slide Rail Suspension

Removal
Inspection
Adjustment
Installation

Drive

Removal
Inspection
Assembly
Track Adjustment
Miscellaneous
Wiring Diagrams
Wire And Cable Routing Diagrams
Specifications

Tightening Torque
Conversion Tables

Exploded Diagrams
Yamaha snowmobile repair manuals contain complete part removal, disassembly, cleaning, inspection, assembly and reinstallation servicing procedures. Each manual contains a wealth of illustrations, diagrams, schematics and pictures to ensure you complete the repair work successfully. Download a repair manual today and fix your problems now!