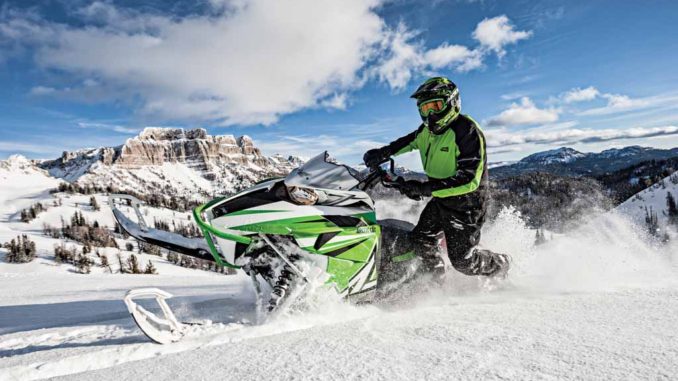 Arctic Cat snowmobile repair manuals are instruction books for learning how to fix or mend the motor vehicle back to working order. The handbooks cover all aspects of repair, from basic maintenance, strip-down to complete overhaul and rebuild. Hundreds of diagrams and photographs are included in the manuals to efficiently aid the user though the service or repair process. Each section has step-by-step repair instructions that are easy enough for any do-it-yourselfer or professional mechanic to understand.
SnowmobileRepairManual.com is your No. 1 source for digitally delivered online repair manuals. Download an Arctic Cat snowmobile digital repair manual straight to your computer, tablet or smart phone in seconds. These downloadable PDF (portable document format) manuals are digitally delivered books containing the repair instructions necessary to fix or repair a 2-stroke or 4-stroke Arctic Cat snowmobile back to factory specifications.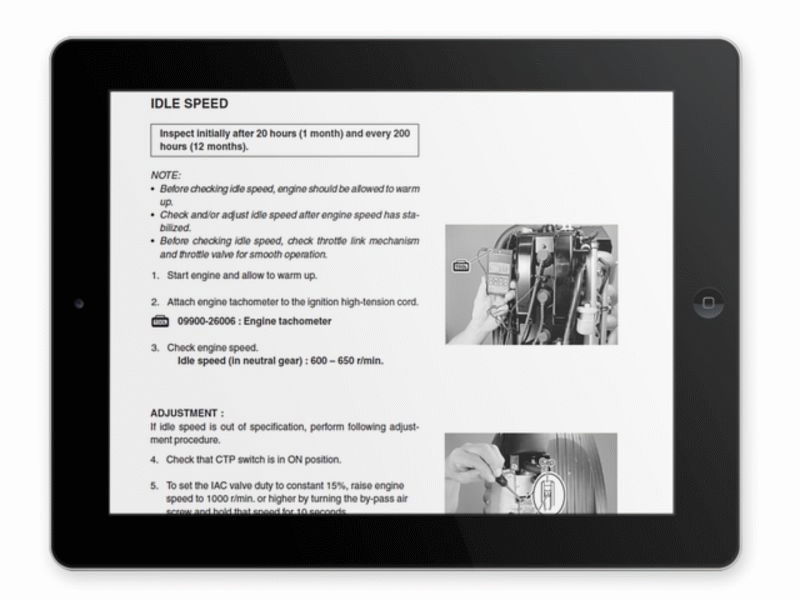 Downloadable Arctic Cat snowmobile repair manuals, also termed factory service manuals, are identical to paperback versions you'd obtain in stores, and contain the same repair information found in high-end aftermarket manuals. For Arctic Cat snowmobiles, the following content is usually covered: general information, vehicle and component specifications, regular maintenance and tune-up procedures, engine, fuel system, brakes and final drive, electrical system, body and steering, suspension and troubleshooting.
Arctic Cat repair manuals cover every aspect of maintenance and repair. Here's a small sample of topics often covered in an Arctic Cat snowmobile repair manual (actual topics will vary depending on year an model):
General Information
Snowmobile Identification  

Recommended Gasoline and Oil

Break-In Procedure  

High Altitude Operation

Preparation For Storage

Preparation After Storage

After Break-In Checkup (100 Miles)

AfterBreak-In

CheckupChecklist

Torque Conversions

Tightening Torque (General Bolts)

Fraction/Decimal Conversion Chart

Drill Bit Sizes (Number) Chart

MM/ln. Conversion Chart

Servicing Symbols
Engine Related Items
Axial Fan/Belt
Repairing Water Pump
Repairing Water Pump
Pressure Testing Engine
Liquid Cooling System
Cooling System Schematics
Recoil Starter
Arctic Power Valve System
Exhaust Controlled Timing (Eel) System
Chassis Electrical Systems
Brake light Switch (Hydraulic System)
Brake light Switch (Mechanical System)
Headlight Dimmer Switch
Testing Handlebar Warmer Elements
Testing Thumb Warmer Element
Testing Handlebar Warmer Switch
Testing Passenger Hand warmer Switch
Wiring Diagrams
Steering And Body
Steering and Body
Steering Post
Ski
Ski Wear Bar
Drag Link 
Front Tie Rods
Spindle
Steering Tie Rod
Front Suspension Arms
Front Suspension (Ski) 
Shock Absorber
Sway Bar
Console (Standard EFI Models).
Console (Standard Carbureted Models)
Belly Pan
Gas Tank/Seat Assembly
Seat Cushion
Taillight Housing
Windshield
Backrest/Rack/Taillight Assembly
Tunnel/Rear Bumper/Snow-flap
Heat Exchanger
Air Silencer Assembly
Headlight Assembly
Adjusting Headlight Aim
Torque Specifications (General Bolts)
Track And Rear Suspension
Understanding the Suspension 
Suspension Setup BasIcs
Suspension Mounting Location Chart
Chassis and Skid Frame
Mounting Locations
Servicing Chart
Slide Rail Schematics
Front Arm Schematics
Rear Arm Schematics
Idler Wheels Schematic
Drive Sprocket Locations
Drive Track Usage Chart
Drive Track Lug Patterns
Track Warranty Guidelines
Idler Wheel Selection Chart
Torque Specifications
Rebuildable Shock Accessory Part Numbers
Shock Absorber Usage Guide
Rear Spring Selection Chart
Front Suspension Ski Springs
Front Suspension Sway Bar
Rear Suspension (Front Arm Springs)
Suspension Stiffening Kits
Standard Shock & Spring Chart
Optional Rear Arm Spring Chart
Rebuildable Shock Tools Required
Rebuildable Shock Rebuild Kits
Rebuildable Shock Specifications
Servicing IFP Style Shocks
Servicing Position Sensitive Shock
Rebuilding And Recharging Fox Air Shocks
Servicing Fox Zero Pro Shock Absorbers
Installing Internal Travel Limiting Spacers
Servicing Rebuildable Shocks & Remote Reservoir
Bearing Cap and Shaft Seal
Shaft Eyelet
Ski Shocks Bottom-Out Bumper
Pressurizing Rebuildable Shocks
Troubleshooting Track
Engine
Arctic Cat Engine Specifications
Torque Conversions
Piston Replacement Guide
Assembly Schematics
Engine Piston Travel Versus Crank Angle Chart
Cylinder Head Volume Specifications
Crankshaft Runout
Specifications Engine
Removing Engine
Disassembling Engine
Servicing Top-Side Components
Cleaning and Inspecting Engine
Measuring Critical Components
Assembling Engine
Installing Engine
Troubleshooting Engine (Carbureted Models)
Troubleshooting Engine (EFI Models)
Engine Information
Engine Electrical System
Electrical Specifications Chart
Resistance Tests Chart
Electrical Specifications
Testing Electrical Components
Troubleshooting
Testing Ignition System EFI Models
Testing Ignition Carburetor Models
Testing  Fan Cooled Models
Throttle Position Sensor
Testing Electrical Resistances
Voltage Regulator Test
Voltage Regulator Test (EFI Models)
Voltage Regulator (APV) Test (EFI Models)
Regulator/Rectifier Test (Carbureted APV Models)
Condenser Test (Carbureted APV Models
Servomotor Test
Potentiometer Test
Peak Voltage Tests (Fan Cooled Models)
Peak Voltage Tests (Carbureted Models)
Peak Voltage Tests (EFI Models)
Testing High Temperature Sensor
Testing High Temperature Warning Light
Testing Fuel Gauge
Testing Fuel Gauge Sender
Testing Electric Fuel Pump
Electric Start Components
Solenoid
Charging Diode
Fuses
Ignition Switch - Electric Start Function
Starter Motor
Troubleshooting Electric Start
Ignition Timing
Ignition Timing Specifications
Ignition Timing Specifications
Wiring Diagrams
Drive Train And Brake System
Drive System Specifications
Chains & Sprockets
Arctic Cat Drive Belt Dimension
ChartArctic Cat Drive Belt Replacement Chart
Center-To-Center/Offset Specifications
Drive Train and Brake Systems
Drive Clutch
Roller Driven Pulley
Drive Clutch/Driven Pulley
ACT Roller Driven Pulley
Drive Pulley
Removing/installing Drive Belt
Drive Train Schematics
Drive Train/Brake Disc
Drive Train Brake Disc
Rep-lacing Driven Shaft PTO-End Bearing
Chain Adjuster
Brake System
Brake Lever Master Cylinder Assembly
Brake Control
Arctic Cat Cam Arms
Torque Specifications
Troubleshooting Drive Clutch/Driven Pulley
Troubleshooting Drive Belt
Troubleshooting Hydraulic Brake System
Download an Arctic Cat snowmobile repair manual instantly. It really is that simple. Get the repair information you need to fix your snow-mobile in seconds. You can download the manual to your computer, tablet or smart phone. A typical download takes under a minute.