This digital download is a handbook of repair instructions. It pertains to all Polaris Deep Snow models. The electronic book of instructions can be downloaded in seconds.
Polaris snowmobile maintenance provides a truly amazing experience for the intrepid DIY practitioner. Anyone who wants to take on this rewarding task will need to make sure they have the right tools for the job and the knowledge to do it correctly. That's where the Polaris snowmobile manual comes into play. It equips the sled owner with insight into specifications and technical details needed to not only perform repairs, but to ensure that the snowmobile is being properly maintained.
Preventative maintenance is much more cost efficient than repairing a snow-machine. A manual helps create an effective schedule that will increase the life of the machine. But even with an optimized preventative maintenance schedule, parts eventually break due to wear. It will need to be fixed.
No one wants to take apart their Polaris snowmobile to fix a problem only to make it worse. Snowmobile repair manuals are a blueprint to ensuring this doesn't happen. They provide a ton of highly useful information including assembly, maintenance, and safety instructions. Manuals put the information that an owner needs right at their fingertips.
With that in mind, there are three types of snowmobile manuals that are equally important to DIY experts!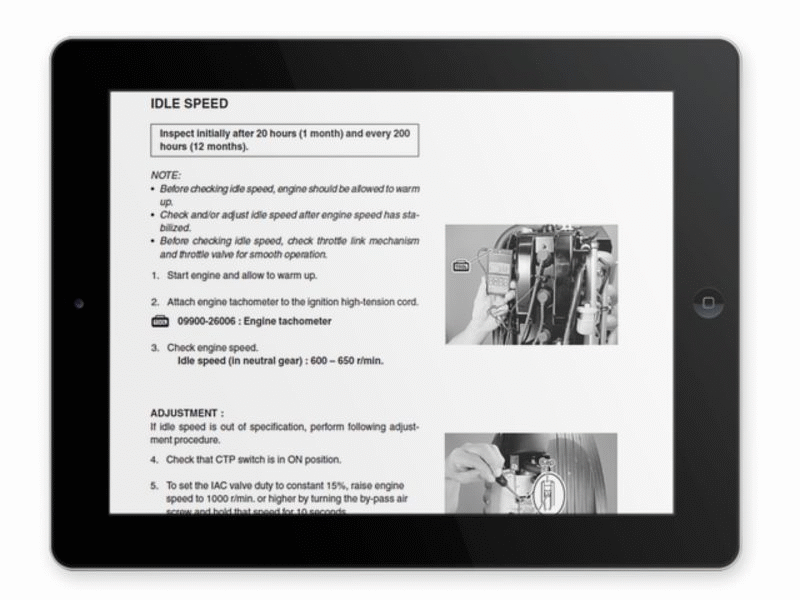 Polaris Repair Manual
This is the most important manual for DIY connoisseurs who need to repair defective components on their snowmobile. In the past, owners were at the mercy of one or two publishers to provide this essential guide but today's digital world has given access to more options. Guides can easily be downloaded in PDF form and printed for reference, or even viewed on a mobile device.
So what does a snowmobile repair manual contain? The exact details will depend on the manual but at a bare minimum, a repair manual should contain troubleshooting steps, detailed repair procedures, and a categorized look at components. However, repair manuals that have illustrated instructions and parts diagrams are preferable since visual guides tend to communicate information more reliably.
There are also categorized snowmobile repair manuals and model-specific ones. For instance, a Polaris-IQ-440 repair manual would show users how to perform repairs specific to that specific model. In contrast, a broader manual like 'Snowmobile Clutch Repair Guide' would touch on a lot of different models but all information would be specific to the clutch.
Polaris Service Manual
Whereas a repair manual focuses on describing instructions in a user-friendly manner, Polaris service manuals are written with technicians and mechanics in mind. That means that are far more technical. However, they also provide vital information into snowmobile components that a repair manual does not.
In the past, these manuals were only sold to certified technicians but the online world has opened the doors so that anyone can find them. Service manuals will include highly technical data like part numbers, torques, and dimensions. It will also include step-by-step instructions, but these will be more technical in nature. Thus, snowmobile service manuals are not as user-friendly as standard repair manuals.
Polaris Owner's Manual
An owner's manual can contain more than a single guide and it is another great tool that DIY gurus will need in order to successfully work on their machines. This type of guide mostly focuses on instructions on how to properly use the Polaris snowmobile but it can also include limited repair instructions. With that said, an owner's manual will also contain valuable preventative maintenance tips, programming, installation of accessories, and provides essential safety tips.
DIY experts will also want to pay close attention to warranty information in the owner's manual because certain DIY practices might void the warranty. It's wise to always follow the specified instructions so that the warranty is not nullified.
A snowmobile owner's manual comes with the snowmobile but if the owner happens to lose their manual, it can be found online on the manufacturer's website.
Snowmobile Manuals are More Accessible than Ever!
Snowmobiles come in a lot of different models and each one will have its own recommended maintenance and repair steps. Fluid capacity, oil type, and even fuses will vary depending on model so a manual is the only way to differentiate between them. So it's essential that DIY gurus have one to ensure that they are following the correct steps.
Taking equipment apart is easy so anyone can do that. Putting it all back together is where people tend to have the most trouble. Knowledge is the most powerful tool in the world. Don't recklessly start taking apart a snowmobile without being equipped with this tool. Most DIY practitioners are not technical experts so having a guide is going to mean the difference between accurately fixing the problem and being left with a cluster of random parts and a voided warranty.
Finally, it's never been easier for DIY practitioners to find the perfect Polaris snowmobile manual. Download them on a computer, tablet, or smartphone today!
Deep Snow Models Covered in the Manual 
| | | |
| --- | --- | --- |
| 2002 Indy 500 SKS Euro | 2002 Indy 500 RMK | 2002 Indy Trail RMK 550 |
| 2002 600 Edge RMK | 2002 Indy 700 SKS | 2002 Indy 700 RKS Euro Model |
| 2002 Edge RMK 136" | 2002 700 Edge RMK 144", 151" | 2002 800 Edge RMK 144" |
| 2002 800 Edge RMK 151", 156" | 2004 Trail RMK / 600 RMK  | 2004 600 Switchback  |
| 2004 700 RMK | 2004 700 Switchback | 2004 800 RMK / Switchback |
| 2003 Trail RMK | 2003 700 SKS / 800 SKS | 2003 600 RMK |
| 2003 700 RMK / 800 RMK | 2005 Trail RMK | 2005 600 RMK / 700 RMK |
| 2005 800 RMK / 900 RMK | 600 / 800 Switchback |   |